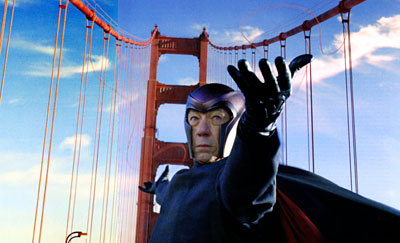 "X-Men: The Last Stand delivers on all the momentum and pathos of the first two installments"
Corina Chocano,
Los Angeles Times
"Let us pause to consider a world in which Ian McKellen is in every movie. It would be a lovely place, full of moments when McKellen raises an eyebrow with the precision of a Swiss watch, or purrs out a line with the kind of aristocratic understatement that American actors never quite pull off, or cackles with perfectly calibrated but ever-so-slightly shadowed glee. At the moment, we may be as close as we'll ever get to McKellenWorld."
Moira Mcdonald,
Seattle Times
"Surprise, surprise. X-Men: The Last Stand, the third big-screen convocation of mutant shape shifters, weather changers, ice makers, energy suckers, healers and telepaths from Marvel Comics, has shifted the shape of the franchise from pretty good, if uninspired, to terrifically entertaining."
Joe Morgenstern,
Wall Street Journal
"Explosive, adrenaline-fueled fun, "The Last Stand" is likely to be the best popcorn movie of the summer ."
Elizabeth Weitzman,
New York Daily News
"X-III packs more action and razzle-dazzle visuals into its 104-minute running time than Mission: Impossible III, Poseidon and The Da Vinci Code combined."
William Arnold,
Seattle Post-Intelligencer
"I enjoyed "X-Men: The Last Stand." I liked the action, I liked the absurdity, I liked the incongruous use and misuse of mutant powers, and I especially liked the way it introduces all of those political issues and lets them fight it out with the special effects. Magneto would say this is a test of survival of the fittest. Xavier would hope they could learn to live together."
Roger Ebert,
Chicago Sun-Times
"As more than one keen observer has noted, [Magneto and Professor X] adhere to a stormy Martin Luther King-Malcolm X paradigm: two men with opposing means to the same end. Stewart and McKellen perform with tremendous seriousness. But they also bring great affection, tenderness, and familiarity to their dynamic. They could be brothers. They could have been lovers."
Wesley Morris,
Boston Globe
"If this really is the last stand, it's a stylish farewell indeed."
Luke Y. Thompson,
Dallas Observer
"X-Men: The Last Stand expands on the themes of discrimination and alienation explored in the first two films, and still retains the franchise's signature kick-butt action features."
Claudie Puig,
USA Today
"It perfectly completes and extends the first two films and confirms this franchise's place in the pantheon of all-time great Hollywood trilogies."
Kevin N. Laforest,
Montreal Film Journal