3 October 2000
Introducing Shakespeare
Q: In the United States it's almost a staple to introduce Shakespeare to students by requiring them to read "Romeo and Juliet" in the ninth grade. I've always thought that the age was right, but that the story is wrong. "Romeo and Juliet" is a very complex drama that's difficult for young readers to understand. By slating this tragedy as a requisite the teachers are turning many of their pupils off Shakespeare, and creating a rougher beginning for those who may eventually find his plays intriguing. Do you agree with me that a comedy would be a better start for young readers?
A: Probably the way it is presented is more important than which play is the first Shakespeare. My own were Macbeth and Twelfth Night (I think in that order) by Wigan Little Theatre amateurs: followed by my sister's Bottom (as I never tire of joking) in the High School's all-girl production of A Midsummer Night's Dream accompanied by vocal and orchestral music from Mendelssohn's suite. As I think I enjoyed the theatre-going as much as the plays and saw clear productions, I am glad that I didn't meet Shakespeare first on the page or in the classroom. Grandpa (my mother's father) gave me the Oxford Complete Shakespeare when I was 12 and by then my interest was well established.
It's difficult for me to judge how schools should manage great classical drama but the young people I know who have developed a taste for it either act or enjoy theatre. So why not the farce he wrote in his 20's, which only makes sense when performed — a classroom production of Comedy of Errors — bawdy, humane and short?

On The Modern Man's Shakespeare (or Yo' Will! 'Sup?)
Q: 1) Why do you suppose most directors/producers/script writers are "modernizing"" Shakespeare?
2) What are the difficulties in making a film for an audience who, at best, think Shakespeare is beyond their understanding?
3) Who chooses what stays in the movie and what gets left out? Why?
4) Do you think the Bard would approve?
A: I have dealt with your questions at length in my introduction to the published screenplay of Richard III which is available mckellen.com.
Film-makers, many of them trained in the theatre, have introduced to the cinema the long-standing preference of stage actors and directors, to investigate the constant relevance of Shakespeare's stories, characters and themes by releasing them from the dangerous pageantry of doublet and wrinkled hose.
Right: "What the hell do you think you're doing to my play?" Sketch by Ian McKellen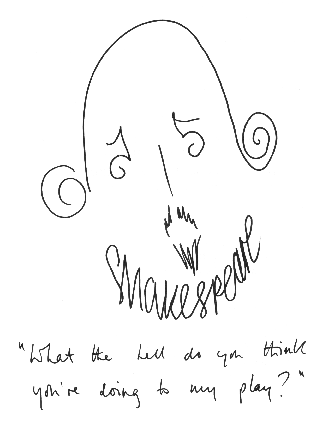 The Future
Q: Any plans for another screen adaptation of the great Bard's plays?
A: With the recent arrival on screen of Love's Labour's Lost (Kenneth Branagh) and Titus Andronicus (Julie Taymor), plays which are rarely seen in theatres let alone cinemas, perhaps the Shakespeare seam is running out. Yet as long as costs are covered and a profit made even, the Shakespeare mine will continue to be worked as it has since the beginning. The oldest extant feature film (silent, ironically) is a melodramatic Richard III. I think it unlikely that I should ever want to travel the producer's path again, although there is no end to the possibilities of translating Shakespeare for the screen. The challenge of such an enterprise, I have reported in the introduction and notes for the published screenplay, which are available from this site. I am delighted that the excellent DVD of Richard Loncraine's Richard III has recently been released in the US.

Updating West Side Story
Q: I am in the midst of rewriting the great "West Side Story". The plot will now revolve around the days leading up to a school shooting in Connecticut. Obviously, this version has a more serious undertone. This play deals with religion, school shootings, and conformity. It also has offended a few of my close acquaintances. I am asking various people, of different ages and backgrounds, what they think of this idea.
A: Shakespeare filched the plot for Romeo and Juliet from an Italian poem he had read in translation. Shortly afterwards John Ford looked at the story through the distorting mirror of incest in 'Tis Pity She's a Whore. Bernstein, Laurents and Sondheim transported Shakespeare to New York's West Side and added music. The recent film by Baz Luhrman brought it up to date in modern Miami. It seems to me that you are following in honourable footsteps. Good luck.

Updating As You Like It
From: Justy Hutchins jhutch524@yahoo.com
Q: In adapting Shakespeare to a specific period in time, as we've seen in recent films (but in theatre for many years), how can the creative artists ensure that the period chosen will truly enhance the "theme" or "tone" of the play so that the audience can fully understand what is happening without nitpicking actual historical detail or being distracted by the choice to place it in a non Elizabethan era? Like your Richard III for example? As a poor starving director, I've been toying with the thought of placing "As You Like It" in the late 60's and early 70's.
Q: I've discussed this in the published screenplay of Richard III. The defence against those who disapprove of tinkering with Shakespeare is the fact that his own productions, regardless of their historical setting, were performed in contemporary dress. But you must be the judge of whether the 1960/70's will help clarify the text, which I presume you are retaining. The National Theatre's all-male production of As You Like It was in that period. But audiences were so busy admiring the actors as women (including Anthony Hopkins as Audrey) that they took the updating without comment.

Acting Shakespeare
Q: Is Acting Shakespeare available on video tape? I caught half of it on PBS years ago and have wanted to see it again (both halves this time) ever since.
A: Acting Shakespeare was a video version of the solo stage show, taped over three performances in a New York studio in 1984. It was aired by David Susskind Ltd on PBS with an invitation to copy it for use in schools and colleges, where it is still used as teaching aid.

Macbeth
Q: You, sir, are the most amazing Macbeth I have ever seen. I had the great good fortune to see your one-man show on PBS in 1984 and was enthralled. Never again will "Tomorrow and tomorrow and tomorrow" hold the same ring for me. Would that I had the joy of seeing you do the entire play. . . heaven.
A: You are in luck. The Trevor Nunn two-hour video of Macbeth is still on sale. You haven't really seen the play until you have seen Judi Dench's Lady Macbeth.
The analysis of "Tomorrow and tomorrow and tomorrow" was part of my solo show Acting Shakespeare which is not commercially available.

Shakespeare in Print
Q: Do you have a personal favorite among the many editions of Shakespeare?

A: When rehearsing Shakespeare I find the Arden edition of the individual plays indispensable. Not all textual problems are solved therein but most are. I like the notes being printed directly under the relevant text for easy access.

Richard's Habit
From: stephenmckinley@hotmail.com
Q: A good friend told me that he saw you playing Richard III on stage in Edinburgh some years back when he was probably 17 or so. He says that you delivered a soliloquy during which you smoked a cigarette, then kicked the butt off the stage. He then ran from his seat and took the butt - a Pall Mall - as a memento. Is he telling the truth?
A: I certainly smoked as Richard, the production being set in a fictional 1930's, before cigarettes became dangerous/unfashionable. So probably your friend is right. When we toured the production to the USA, the poster showed Richard in evening dress with a Pall Mall (I suppose) hanging from his thin lips. We were warned that no decent, health-loving American would come and see a play where the actors smoked. Nevertheless our houses were almost always full. Perhaps it's OK for villains to smoke.

Favourites
From: Harlow Dietrich harlowgold@aol.com
Q: I was curious, who is your favorite Shakespeare character to play? Thanks!
A: For years I should have said Richard II, the first Shakespeare that I felt I had done convincingly. Seven years later Macbeth took over my loyalty as Trevor Nunn's Royal Shakespeare Company production worked so well in various small theatres as well as the small screen. The same season at Stratford, he directed (with two others) my favourite Shakespeare play (if one can have such a thing) Winter's Tale — and I revelled in Leontes' speeches and that amazing final scene of reconciliation. These days I feel a loyalty to Richard III, who encouraged me to explore acting for the cinema. I can't give you a simple answer and will anticipate your response "So what is your least favourite Shakespeare part". Toby Belch is just hard work: Claudio (Much Ado About Nothing) has defeated me twice: Romeo and Prospero have great speeches but elusive characters.

Macbeth v. Machiavelli
Q: I am currently writing a paper: "Macbeth was written as a refutation of Machiavelli's The Prince." My thesis (somewhat simplified) is that Macbeth was certainly meant to be a refutation of The Prince, but it is a failed attempt. Macbeth, what with his interminable pangs of conscious, is not a true Machiavellian. That honour goes to the other Thanes, who, I argue, stand to profit a great deal from the death of Macbeth. What is your take on the matter?
A: Wondering whether Shakespeare ever read The Prince, I haven't much to contribute except sympathy for your task. Dramatists who write plays as if they were essayists, don't appeal to me. In Macbeth, Shakespeare repeats his constant theme — the morality of power. This may well overlap with Machiavelli's work, of course.

Stage Plans
From: Melanie Anderson
Q: I have long been a fan of yours, dating back to my university days at UCLA. I felt very fortunate to have seen you on stage at the Westwood Playhouse in "Acting Shakespeare." I now live in New York. Is there any chance you might be thinking of doing some stage work here in the near future? Might you ever perform a Shakespearean role on stage again?
A: Sometime in 2001 I hope to do a play — why not in New York? Watch this website. It won't however, be Shakespeare yet awhile. I am hoping for a new play or a modern classic. There are wonderful Shakespeare parts still to try when you are my age, however there are too few challenging parts for my female contemporaries. Apart from Volumnia, what else is left for Dames Maggie and Judi?

Edward II
Q: I was taking a classic theatre course at Temple University in the early Seventies when I came upon a production of Edward the Second on television. I was wondering if you know where one could obtain a VCR copy of this wonderful production of your past.
A: The BBC TV version you must have seen has never been commercially released although you might find the audio disc around in second-hand stores. Good hunting.

The Tempest
Q: How do you, personally, see Prospero in The Tempest?
A: I think you have to find Prospero (indeed any part) within yourself and I agree that other people's theories about the play can be very unconvincing. All I can suggest is an examination of the text in all its detail. Don't look for a man wholly good or wholly anything - his motives and behaviour are as complicated as all Shakespeare's other heroes.

Sir Toby Belch
Q: I am taking a class on Shakespeare and am doing a paper on Twelfth Night, specifically on Sir Toby Belch. As you played Sir Toby in 1978, it would be wonderful if I could possibly get your perspective on playing the part.
A: Toby Belch is probably the longest part in the play and in most of his scenes he is the engine of the plot. If his energies flag, so does everything around him. All Toby's humour has to be worked hard for, so it can be a little riling, when Sir Andrew's one-liners cream off all the best laughs in, for example, their night drinking scene with Maria and Feste and Malvolio.
The character is well-rounded, more than just bluster and bullying. As his name suggests, Belch is an alcoholic although I played him without the traditional toper's paunch. His title is probably hereditary, implying an upper-class education and lifestyle. I used an appropriately fruity accent and made it clear that he was a trained swordsman in the comic fight with Viola. His main problem is lack of money, making him dependent on his niece and on Aguecheek's ever-open purse.
In almost everything he does, he betrays his unhappiness, despite his quick wit, so that when Maria agrees to marry him by the end, the audience is relieved as she is. Despite his crudeness and cruelty toward the lower classes, Toby's spirit is attractive, battling the notion that youth's the stuff does not endure.

Shakespeare = DeVere?
Q: I was wondering if Sir Ian's had a position on the Shakespeare authorship question. Is he was familiar with the case for Edward DeVere?
A: "The plays were written either by Shakespeare or by a man calling himself Shakespeare". That is attributed to Mark Twain or, strictly, a man calling himself Mark Twain. Certainly the author was a devotee of the theatre and most likely a professional — which makes me doubt the claims of DeVere, Bacon and the rest. It is a mistake to think little is known about the man from Stratford-upon-Avon, whose life as catalogued by Professor Schoenbaum, is more fully recorded than most of his contemporaries. I am not attracted to the snobbish assumption that the author of Hamlet needed to have been a university-trained aristocrat.

Macbeth erotica
Q: I find your RSC production of Macbeth to be (among a million other things) very erotic. Was this intentional, or just a happy combination of electric acting and powerful material?
A: Our director Trevor Nunn was adamant that Macbeth and his Lady were very much in love and that their marriage was at the heart of the story. Hence, for example, the prolonged embrace when Macbeth returns from the war. All their scenes have a sexual charge until their love and marriage collapse under the weight of their ill deeds. In Act 4, Macbeth, shirtless and legs apart, lies back on the floor, as the three witches minister to him with their drugs — perhaps some would find that erotic.

Macbeth on video
Q: I recently watched the production of Macbeth that you acted in with Dame Judi Dench, and I have to say I liked it very much. Everyone performed their parts very well, I thought. Also, it was interesting to see Ian McDiarmid in one of his pre-Return of the Jedi roles. Do the two of you still keep in touch, or compare notes on each of you being in a high-profile fantasy trilogy?
A: Iain now runs the prestigious Almeida Theatre in London. Were he ever to offer me work there that would be a good chance to reminisce. As it is, I haven't worked with him since our seasons with the Royal Shakespeare Company (1976-78), although I have seen him onstage, of course, most recently as Barrabas in Marlowe's The Jew of Malta.

Lear at the Broadmoor
Q: I know the production of King Lear, in which you played Kent, was taken to Broadmoor Hospital. Can you tell me about that experience?
A: Our visit to Broadmoor was suggested by Clare Higgins (Regan) who had performed there with actors from the Royal Shakespeare Company. King Lear, a play about madness and violence and the power of good behaviour to overturn bad, was appropriate for a hospital where the "criminally insane" are cared for by nurses and psychiatrists. Our audience of patients and staff clustered round a space in the assembly hall at the heart of the Victorian part of the building. Whenever the story turned sour and familial love turned to hatred and blood, the actors were moved by the special experience of this unique audience. For an expert's analysis of the value of Lear at Broadmoor, read "Shakespeare Comes to Broadmoor" by Murray Cox, who invited us.

Macbeth
From: Vern Griffiths csg@supanet.com
Q: I am a Welshman living in London and I am about to tour Canada playing Macbeth. Any piece of advice?
A: Just one then — note that Macbeth's first line is half-humorous. A sense of humour relies on a sense of detachment — this fits with Macbeth's ability to be self-critical, which is at the heart of his tragedy.

Macbeth on Video
From: Isa naryamiriel@hotmail.com
Q: I've watched Trevor Nunn's brilliant production of Macbeth at least five times, and I can't imagine a more powerful Macbeth and Lady Macbeth than you and Judi Dench. I wish I'd been around to see it on stage in 1976. Does the video version differ drastically from the way it was presented on stage?
A: In transferring the production from stage to video, Trevor's aim was "to photograph the text" without distractions of visual effects. There were no cuts from the text we used on stage and the cast was the same, including the doubling of actors in some supporting parts.
I recommend watching Macbeth alone in a darkened room, with the hope that its compulsive action will scare you as much as any modern day thriller.

From: Daniel Callahan thatbookguy@yahoo.com
Q: No question really, but I did want to take a sycophantic moment to say that since watching your "Macbeth" (with Judi Dench) that you have been one of my favorite actors, and that the production itself must be one of the finest ever recorded. If the BBC have any foresight, they will preserve it digitally and release the DVD.
A: Thank you! Whilst we await for BBC Enterprises to catch up with the latest technology, the VHS version of Macbeth is still available...

Acting Tips
From: Grant Chapman
Q: I read that you played your first Shakespearean role at 14 (or thereabout). At that age, and throughout your teenage years of acting, what challenges and frustrations did you encounter? What was your process for discovering a character, and has it changed much since then? I'm sixteen and want to act for a living.
A: Shakespeare's characters become clear once you can untangle the complications of his vocabulary and rhythms but those fascinating problems aside, for many years I found it difficult to present myself in public - a definite disadvantage for an actor! I liked most to be in disguise - an alien accent, a different walk, anything but myself. After a year or so with university drama groups, I decided to avoid the old men and character parts that I had a talent for, realising that as a professional I would be expected to look and sound like a young man. Even so it took me about 10 years of full-time acting to gain the self-confidence which is any actor's most crucial attribute.
Good luck!

Acting Shakespeare
From: Jonathan Dixon timurlame@yahoo.com
Q: The confluence of a recent message from a man who saw the American PBS broadcast of "Acting Shakespeare" years ago while in high school, and an offhand comment you made in the souvenir booklet for that show have inspired me to write. In that booklet you noted, ironically I'm guessing, that you're still waiting to play a Shakespeare heroine. I saw part of that PBS broadcast when I was in high school. One moment has stayed vividly with me: your doing Juliet on the balcony. It was so naturalistic and convincing a portrayal of a teenage girl; yet it was coming from a man who, I'm guessing, was in his 30's at the time! It was one of those pivotal enlightenment moments in my own acting development, for it was the first time it struck me that real acting is in the truth of the emotions, not in all the costumes and external paraphernalia. I must recall that scene at least once with every play I do, and it helps in curbing any tendencies toward self-indulgent excess — so thank you for that!
A: Kind of you to send mail that doesn't have a question to answer! I've just remembered that as well as Juliet, I had a go at Mistress Quickly's farewell to Falstaff in the same show, years back.

King Lear
Q: Since you've covered most of Shakespeare's major roles, when do you think will you be tackling King Lear?
A: When I played Kent to Brian Cox's King Lear and saw at close quarters the effort that it cost him night after night, I was not envious. The part is notoriously demanding on the voice and general energy although, as usual Shakespeare gives his leading actor a good space offstage to recoup before the final scenes. I am not eager to play the old man for another reason. Unless each of the central characters is well cast and played, the play loses its special majesty, regardless of the performance by Lear himself. It is not a solo part. Ian Holm (with whom I am currently working) was lucky in that regard, having a weighty supporting cast at the Royal National Theatre. If I couldn't have the same, I should rather not tackle the part and have no plans to do so. I am in the meantime aware that Lear is too demanding a role for an old actor and that I can't leave it too late. So far, I have turned it down only once.


More