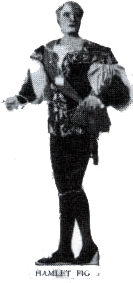 In 1948, Santa Claus delivered the cheapest in the range of Pollock's Toy Theatres to a stage struck nine-year-old and so I did my first Shakespeare in our lounge in Wigan, with scenery and cardboard cut-outs from Olivier's film of HAMLET, sliding Sir Laurence onto wire and waggling him at a petite Jean Simmons - me doing both voices.
In South Lancashire in the 50's, there was a huge variety of theatre and I saw plenty of varied Shakespeare - my older sister playing Bully Bottom in an all-schoolgirl MIDSUMMER NIGHT'S DREAM; Gielgud's Japanese-style KING LEAR on tour in Manchester; Doris Speed (later Coronation Street's Annie Walker) as Lady Macbeth with the local amateurs. Then, each summer, I went on the school camp, pitched near Stratford-upon-Avon, where we saw the productions season after season. We queued through the night for half-a-crown standing, wore ourselves out punting all day and we snoozed through stretches of the most eminent performances. Mostly, my eyes were wide open in amazement.
In 1957, I saw Peggy Ashcroft in CYMBELINE. The beauty and grace of Imogen was so overpowering, that I fancied it was all for my benefit alone. I had seen Dame Peggy up close, when I got her autograph and I knew she was, in life, old enough to be Imogen's mother. But from the back of the stalls, she was essential youth, in voice and gesture: I think I realised that Imogen is a great part - but how did Ashcroft do it? This divinity was beyond what I knew of acting. It made no connection with my own clod-hopping efforts.
At the Boys' Division of Bolton School, we were encouraged to act, if we wanted to, just as much as to play soccer - which I never wanted to. So each dinner-break, I dodged through the dribblers in the playground, to Hopefield Miniature Theatre, a converted Edwardian villa, just along the main road. There, the same crowd of boys and masters from the summer came to Stratford, spent the rest of the year rehearsing little melodramas, marionette shows, French playlets (in the original) or bits from Aristophanes or Shakespeare. Each term we put on a programme for 50 indulgent parents, packed into the ground-floor auditorium of the old mansion. At Hopefield, I decided that I much preferred acting to making puppets or scenery. I even practised a rudimentary acting technique. In the school library, a theatre-manual defined the principle of 'upstaging': 'the actor furthest from the audience is the most dominant'. How infuriating, as a 13 year-old Malvolio in the Letter Scene from TWELFTH NIGHT, to be upstaged throughout by Sir Toby Belch and the rest of them, hiding in the box-tree behind me! It might have helped if I hadn't held my arrogant little head so far back. Never mind: as the classics master stuck on my crepe-hair beard, he joked: 'Of course, McKellen has grease-paint flowing in his veins'. I believed him.