Theatre-life is full of crossroads (and cul-de-sacs, too): and if I hadn't left the RSC when I did, I mightn't have been free to play on Broadway in Amadeus, directed by Peter Hall. And if I hadn't done that, Sir Peter mightn't have invited me to play Coriolanus at the National Theatre.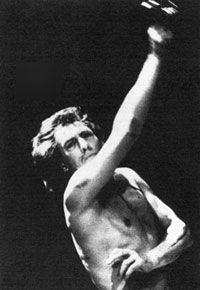 In his latest book, ON ACTING, Laurence Olivier (who should know) says that Coriolanus is an easy part. It's true that psychologically he is bang straightforward. You've got it all, once you've understood the idiosyncratic nature of his pride. He is a world-beating athlete, who demands the public's attention and yet resents their praise, lest it should sap his strength. (The John McEnroe syndrome, perhaps.) Caius Martius stands superbly alone, unwilling to change: his pride is the stubbornness of a boy. He is inflexible, incapable of adaptation, like a dinosaur, and the play is the story of his extinction. Half-way through, when he leaves his home and family in Rome, he searches for a world elsewhere but, significantly, that journey to Antium takes place offstage. There's no comparison with the self-discoveries of Hamlet or Edgar or Richard II. All this may be easy enough to understand but was not easy, for me, to play. I had to be fighting fit. If the audience didn't believe that I could at least have a go at taking Corioli single-handed, I might as well have hung up my sword and shield. I needed lung-power, too, for a man who so often rails and rages against the odds. The acoustics of the Olivier Theatre are more stable than the Great Hall at Bolton School but then Sir Peter put 100 of public onstage, behind the actors, so that, upstaged throughout, I had to project in the round. Oh, for the intimacy of The Other Place! John Bury's magnificent set was a crumbling Roman theatre, surrounding an arena of sand. It was the sort of place where gladiators had fought, where, in more recent times, public rallies might have been held or dissidents rounded up for questioning. It was an ideal setting for the political debate which is the centre of CORIOLANUS.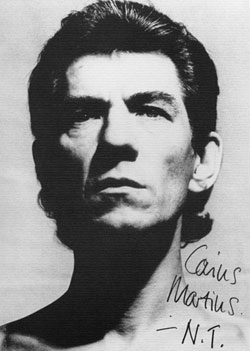 At the end of our nine month run we went to Athens, where we played in a real Roman theatre. The Herodus Atticus is built into the very rock of the Acropolis. From the stage we looked up, over the heads of 6000 people, seated on roughcast benches, to the Parthenon floodlit in the night sky. I have not often played, as Shakespeare's original actors always did, in the open air and the effort was stupendous. So was the Athenians' response. When I got home, I had to go to bed for 3 days.
As for my future with Shakespeare, there is no part I'm dying to act well, Benedick and lago, maybe, but only, as with any part, if the conditions (theatre, director, cast, pay) are propitious. There are (however,) parts that I'll try and avoid, because they somehow offend. Every modern, white actor, taking on Othello, feels obliged to explain why he's not playing him black, which was surely Shakespeare's intention, when the unspoken reason is that to 'black-up' is as disgusting these days as a 'nig- ger minstrel show'.
Again, try as actors and directors may to explain what Shakespeare really intended, THE TAMING OF THE SHREW and THE MERCHANT OF VENICE stand, these days, as anti-feminist and anti-semitic. That crosses Petruchio and Shylock off my list. It's worrying, too, that RICHARD III seems to equate physical handicap with evil: which I don't. There are a few parts I'd like to have another crack at. I've still played Malvolio, only in that schoolboy letter-scene and I'm looking forward to Shallow again, in the hope that I may have forgotten John Barton's intonations. I keep Richard II and Macbeth fresh in my memory in ACTING SHAKESPEARE.
Looking back at the rest, I've no regrets, even about the bad performances, because I learnt something from them all. No regrets, either, about missing out on parts that I'm now too old to play. Indeed, I'm ecstatic not to have had to try Bassanio, Ferdinand, Fliorizel and others of that ilk. Like Claudio and Sebastian they should be attempted only by charismatic beauties. It would have been fun, on the other hand, to play Edmund, Hotspur, Mercutio and Puck but, then, they are such easy parts - you never see a bad one. For me, over the years, acting in Shakespeare has always been a challenge. Accepting the challenge has always been part of the reward.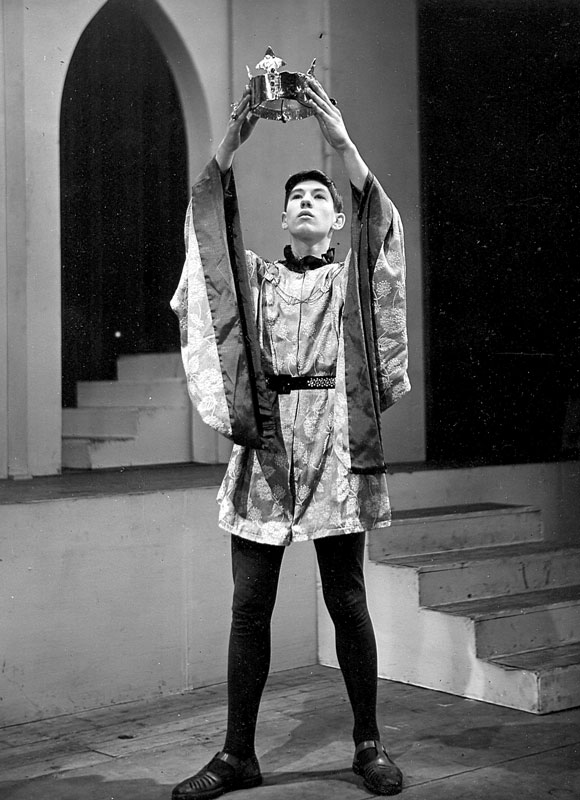 First published as a souvenir booklet for the 31 August 1986 performance benefiting the Terrence Higgins Trust (Action Against AIDS) and the National Theatre Studio.