Now Playing
3-31 August 2013
Opening Night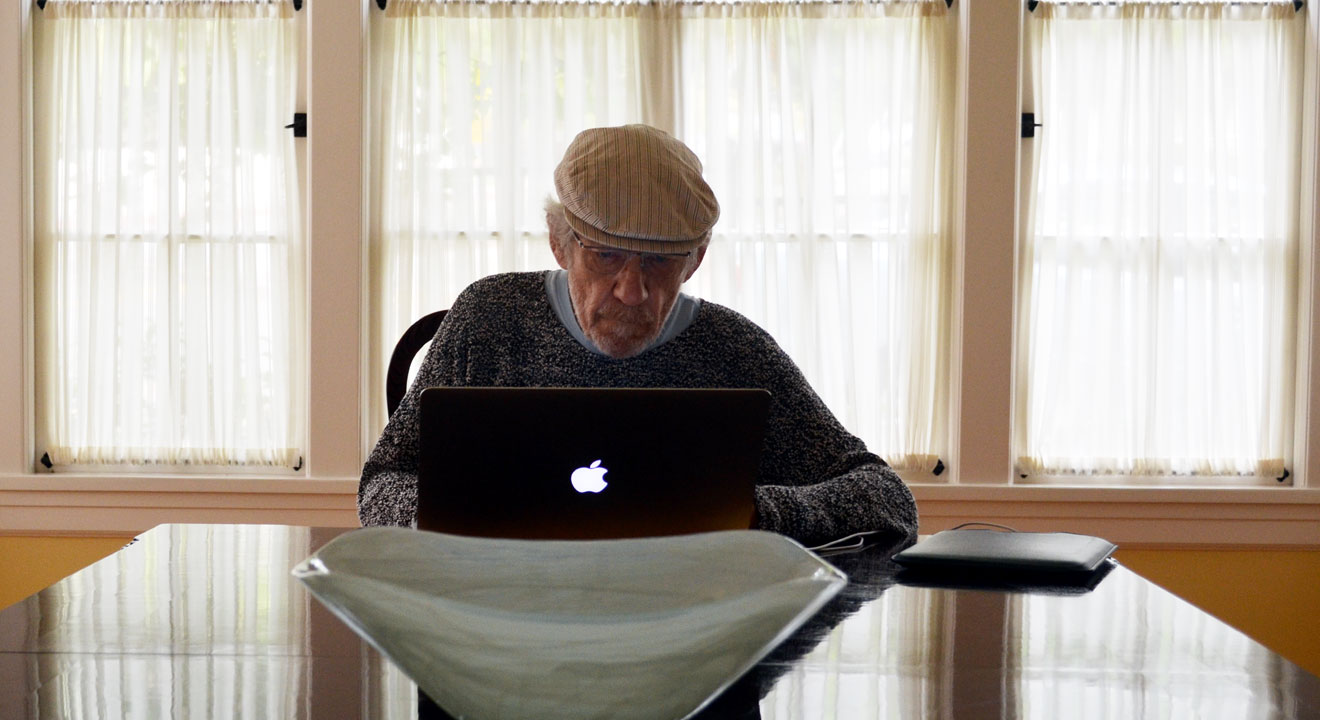 It's always the same. The actors and director rehearse the play, examining every problem, disentangling every puzzle : and then we show it to an audience, whose reaction teaches us even more about the play. In the case of NO MAN'S LAND, the Berkeley preview audiences have shown us that Harold Pinter is a great comic writer. The play, in performance, spins from hilarity to intrigue: two hours of theatricality which have made all our hard work worthwhile. I hope the audience coming to our first night on Sunday is looking forward to it all as much I am. The show is sold out but don't despair, there are often return tickets available just before the performance, much cheaper than the tickets being scalped for $800 each on Ebay.
— Ian McKellen, Berkeley, 9 August 2013
OPENS THIS SUNDAY
IAN McKELLEN PATRICK STEWART
BILLY CRUDUP SHULER HENSLEY
IN NO MAN'S LAND BY HAROLD PINTER
AT BERKELEY REP
DIRECTED BY SEAN MATHIAS
Harold Pinter's NO MAN'S LAND starring Ian McKellen, Patrick Stewart, Billy Crudup and Shuler Hensley, directed by Sean Mathias, opens this Sunday, August 11 at 7pm at Berkeley Rep. This brief engagement will play through August 31.
Following the Berkeley run, McKellen, Stewart, Crudup and Hensley will star on Broadway in a limited season repertoire of Harold Pinter's NO MAN'S LAND and Samuel Beckett's WAITING FOR GODOT, two of the most iconic plays of the 20th Century, which will open on Broadway at the Cort Theatre, 138 West 48th Street, this fall. Performances will begin Saturday, October 26 at 8pm. The official opening is Sunday, November 24, 2013. This limited season will run for 14 weeks only. For performance schedule and more information, visit TwoPlaysInRep.com. Tickets to the limited season repertoire are now on sale to the general public through Telecharge atwww.telecharge.com or by calling 212-239-6200. Contact Telecharge Groups at (212) 232-6262 for group sales prices and information. Tickets can be purchased in person at the Cort Theatre box office beginning Monday, September 30 at 10:00am.
Ian McKellen won the Tony Award for his performance in Amadeus in 1981. Patrick Stewart first appeared on Broadway in Peter Brook's production of Shakespeare's A Midsummer Night's Dream in 1971 and won the Drama Desk Award for A Christmas Carol in 1992. McKellen and Stewart have appeared together on stage twice before - in the 2009 West End production of Waiting for Godot and in the 1977 premiere of Tom Stoppard's Every Good Boy Deserves Favour. Billy Crudup, won a Tony Award for The Coast of Utopia in 2007. Shuler Hensley won a Tony Award for Oklahoma! in 2002. Sean Mathias, Tony nominated for his direction of Indiscretions, directed Billy Crudup in The Elephant Man in 2002.
In Harold Pinter's NO MAN'S LAND we wonder if two writers, Hirst (Patrick Stewart) and Spooner (Ian McKellen) really know each other, or are they performing an elaborate charade? The ambiguity - and the comedy - intensify with the arrival of two other men, Briggs (Shuler Hensley) and Foster (Billy Crudup). Do all four inhabit a no-man's-land between the present and time remembered, between reality and fantasy?
WAITING FOR GODOT, Samuel Beckett's most popular play worldwide, follows two consecutive days in the lives of Vladimir (Patrick Stewart) and Estragon (Ian McKellen), who divert themselves by clowning around, joking and arguing, while waiting expectantly and unsuccessfully for the mysterious Godot. Their waiting is interrupted by two strangers, Pozzo (Shuler Hensley) and Lucky (Billy Crudup).
Designs for the productions will include sets and costumes by Stephen Brimson Lewis (twice Tony-nominated for Indiscretions), lighting by Peter Kaczorowski (a Tony Award winner for Contact and The Producers) sound by Rob Milburn and Michael Bodeen (Breakfast At Tiffany's), projections by Zachary Borovay (Ann) and Hair by Tom Watson (The Assembled Parties).
NO MAN'S LAND and WAITING FOR GODOT will be produced on Broadway by Stuart Thompson andNOMANGO Productions (NOMANGO Productions is a consortium of Ian McKellen, Patrick Stewart, Sean Mathias and a group of investors) and Jon Platt. # # # www.TwoPlaysInRep.com