CANNES DO
15 MAY 2006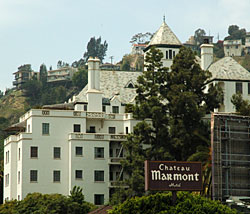 No sooner had I finished the brief tour of Mark Ravenhill's new play The Cut in Liverpool last month, than I shaved off my character's bristly moustache and took the 11-hour flight to Los Angeles. I slept most of the journey. This was just as well because, as soon as I was ensconced on the 7th floor of the charmingly retro Cháteau Marmont on Sunset Strip, I was expected to chat to anyone who might listen (including TV hosts Jimmy Kimmell and Carson Daly) about The Da Vinci Code and also (if it can be mentioned in this chronicle) X-Men: The Last Stand.

Getting miked for Carson Daly
Burbank, 3 May 2006
I wonder if there was any need. Sometimes it seems as if actors in upcoming movies are trapped in a vice betwixt the publicity department, eager to prove their worth to the Studio, and the otherwise empty guest chairs on late night television. Does anyone go and see a film because of chats on late night television? When I failed to manage a single interview before the release of X-Men 2 (I was filming somewhere inconvenient) the only quantifiable result was that more people saw the film than the first one, which I had publicised like billy-o.
Well here I am again, this time talking about two new films due with just a week apart on 19 and 25 May (my birthday as it happens). Tomorrow I leave London with the rest of The Da Vinci Code conspirators via the English Channel Tunnel to the south of France and the 59th Festival de Cannes.
All is revealed on their official site, which is available in a rather halting English translation. Films are shown during the two weeks in three categories: competition, un certain regard, and out of competition. In the latter grouping, The Da Vinci Code's world premiere gets to lead off the entire Festival on Wednesday 17th May. The website says that Cannes highlights "auteur cinema and the search for singular voices in different cultures". Perhaps Ron Howard's film also made it to the front of the line because so much of it was shot in and around Paris, starring some of France's best-loved actors. Indeed, answering the question "What Stars are Expected on the Croisette" (the crescent beach frontage at Cannes) the site lists "First, the actors of the opening film ; Tom Hanks, Audrey Tatou, Jean Reno, Jean-Pierre Marielle" with no mention of the Brits in the cast, neither Paul Bettany nor Alfred Molina, nor . . . but I am eventually given a place alongside Hugh Jackman and Halle Berry. I'm glad
X-Men: The Last Stand was also invited out of competition.

A poster advertising The Da Vinci Code is seen attached to the front of the Carlton Hotel in Cannes May 15, 2006. The film opens the 59th Cannes Film Festival on May 17.
REUTERS/Vincent Kessler
Au revoir! — Ian McKellen, 15 May 2006