Edward Petherbridge, whom I'd met in Olivier's National Company, saw HAMLET at the Cambridge Theatre in London and liked it. He asked to join me in my next job, opening the Crucible Theatre in Sheffield with SWANSONG, a two-hander by Chekov, directed by David William. Ted was offering to play the tiny supporting part. Out of his generosity grew the Actors' Company, in which we all shared out the large and small parts as equally as possible. Our experiment in democracy was based, also, on equal salaries and billing and a collective responsibility for managing our own affairs, choosing the plays in committee and employing our directors, designers and staff.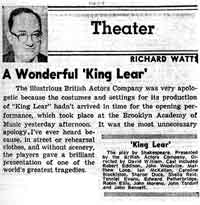 In our second season, we all invited David William (who had encouraged us throughout) to direct KING LEAR. Robert Eddison was a magnificently arrogant and pathetic old king, Ted, a definitive Fool. I was Edgar, another Shakespearian who goes on an heroic journey to maturity and self-awareness. In preparing my disguise as Mad Tom, I flung off all my clothes and stood briefly onstage as the bare fork'd man. This was a simple image to counterpoint the impenetrable obscurity of Edgar's language - and didn't often get a snigger. Otherwise, nothing remarkable; although we went to USA.
Richard II, Hamlet and Edgar, although they ended up in London were all productions designed for touring and that's what I most enjoyed about them. The innocence of audiences in the regions and abroad is a relief from London, where one world-weary theatregoer told me I was his 71st Hamlet! A schoolgirl in Aberdeen, on the other hand, cried out in surprise when I killed Laertes. She had assumed, as Shakespeare intended, that it was impossible for Hamlet to win. Each time I start out preparing these famous parts, I think first of telling their story clearly to an audience who do not know the outcome. That is a big enough responsibility, without also trying for anything extra-spectacular that will startle the jaded. I try and forget what I know or have seen and begin with the text.